Bestech Goblin BT1711C knife
Code:
BT1711C
Exceptional customer service
We care. Call us or email us. Our staff will be glad to help you.
Loyalty discounts up to 10%
For registered customers. 2% discount right after registration.
Shipping within the EU
Kniland ships your orders to almost all European Union countries.
Related products
Product detailed description
Goblin is a small premium folding EDC knife made of high quality materials. In terms of construction it is a frame lock knife with flipper type opening and a blade placed on ceramic bearings. The 5.2 cm blade with a "sheepsfoot" shape with a satin finish is of CPM S35VN steel with hardness up to 61 HRC. Both the handle and the clip of the knife are made of titanium (grade 5, Ti6Al4V).
Bestech Knives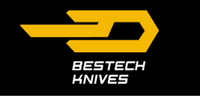 Bestech Knives is a relatively new and quickly evolving brand of high quality knives from China. Bestech is focused on original knife design and high quality of used materials. The entire manufacturing process runs with the use of modern CNC machines, which makes the Bestech knives perfectly symmetrical with great fit and finish. Bestech produces a several series of knives. Budget folding knives made of D2 steel and G10 or micarta handle, exclusive titanium frame-locks with premium CPM steels or fixed blade knives.
Be the first who will post an article to this item!
Be the first who will post an article to this item!
Bestech Knives is a fast-growing brand of high-quality knives from China. Over a decade, this manufacturer has produced knives for world-famous brands such as SOG or Gerber. Bestech focuses on the original design of knives and the high quality of the materials. The entire production process takes place using modern CNC machines, thanks to which Bestech knives are perfectly symmetrical and precisely matched. The basis of the Bestech model range are folding knives, with ceramic ball bearings.
Bestech offers a few lines of folding knives. The G10 series includes mostly knives made of D2 steel, a G10 handle and a liner-lock. The exclusive Titanium range features knives made of premium steel, M390, CPM S35VN with titanium handles and frame lock.