Choosing the right knife can be a difficult decision within the current wide range of options. First of all, it is necessary to say that there is no ideal knife. Each knife excels in different tasks due to its properties. A wood carving knife is unsuitable for a hunter when processing the catch, on the contrary, a hunting knife is not the most suitable knife for everyday use in a home or urban environment.
Of course, there is a lot of such examples. Therefore, before buying a knife, you need to answer the fundamental question: "What tasks and activities will I perform with the knife?" And choose the knife accordingly.

Folding or fixed blade knife?
As a general rule, a fixed blade knife is more suitable for hard work. On the contrary, for easier activities and light cutting a folding knife is more suitable. However, this rule may not always apply in all situations.
The advantage of folding knives is their easy carry and storage. Fixed blade knives are stronger and more reliable, especially for tough tasks. Hunters will also appreciate much easier cleaning of a fixed blade, for example after processing the game.
Fixed blade knives with full-tang construction are suitable for the hardest work. Full-tang is a knife made of one piece of steel that runs through the entire handle. Handle scales are attached by screws or rivets. With this type of construction, the risk of breaking the knife is minimized.
Especially in an urban environment, the advantage of the folding knife is the possibility of its concealed carry (e.g. in a pocket), while it is always at hand.
Stainless steel or carbon steel?
When choosing a stainless steel or carbon steel knife, it depends on the preferences of each of us. Both types of steel have their advantages and disadvantages.
In general, carbon steel is harder and holds the edge better than stainless steel (not talking about modern hi end stainless steels). It is easier to sharpen and you can easily make a "razor sharp" . However, a carbon steel knife requires care. After each use, wipe it dry and oil the blade from time to time. Otherwise, the carbon steel blade rusts quite easily.
Stainless steel contains at least 13% of chromium, which ensures its corrosion resistance. Sharpening stainless steel is a bit more difficult than sharpening carbon steel. The main advantage of stainless steel is almost no need of care. That is the main reason why it is popular with outdoor and hunting knives. If you do not want to take care of the knife regularly, we recommend buying a stainless steel knife.
Handle material
In addition to traditional materials such as wood and antlers, modern industrially produced materials such as G-10, Micarta, Kraton and many others are being used. The main advantage of these materials is their strength and resistance. They are pleasant to the touch, do not slip in a wet hand and are waterproof, so they are more suitable for use in extreme conditions.
The wooden handle gives the knives typical elegance and beauty. It is used in traditional e.g. scandinavian knives. Antler handles are mainly used for traditional hunting knives.
We share more details on knife handle materials in following article: Knife handle materials.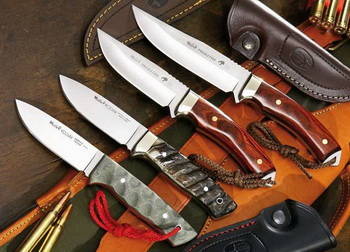 Choosing a knife is always difficult, so consider carefully what activities you plan to perform with the knife and in what environment you will use it. A well-chosen and high-quality knife is a lifelong investment and, with proper care, can be passed from generation to generation in your family. And finally, perhaps the most important thing is that you like the knife and it brings you joy.